On Christmas Day, December 25, the world population spent $ 407.6 million from various countries on apps purchased from the Apple App Store and Google Play Store. This figure represents a 34.5% year-on-year gain from the $ 303 million spent on apps during Christmas Day in 2019; This is according to preliminary data from the Sensor Tower application research firm.
According to the Indian site phonearena, mobile games accounted for the majority of spending on apps on December 25; That number was $ 295.6 million, 27% more than the $ 232.4 million spent on games during Christmas Day last year, and money spent on non-game apps on Christmas Day rose 59% year-over-year from $ 70.5 million. Last year to $ 112 million this year.
Once again, the Apple App Store received the largest portion of the money spent on apps globally last Christmas Day, with Sensor Tower showing that $ 278.6 million, or 68.4% of the total, was spent on the App Store compared to $ 129 million in revenue. Collected by Google Play Store.
These figures indicate an increase of 35.2% year-on-year and a better year-over-year increase of 33% for the App Store and Google Play Store respectively, and in the United States, consumers spent a total of $ 130 million in both app stores this Christmas, an increase of 38.7%, up from $ 93.7 million last year.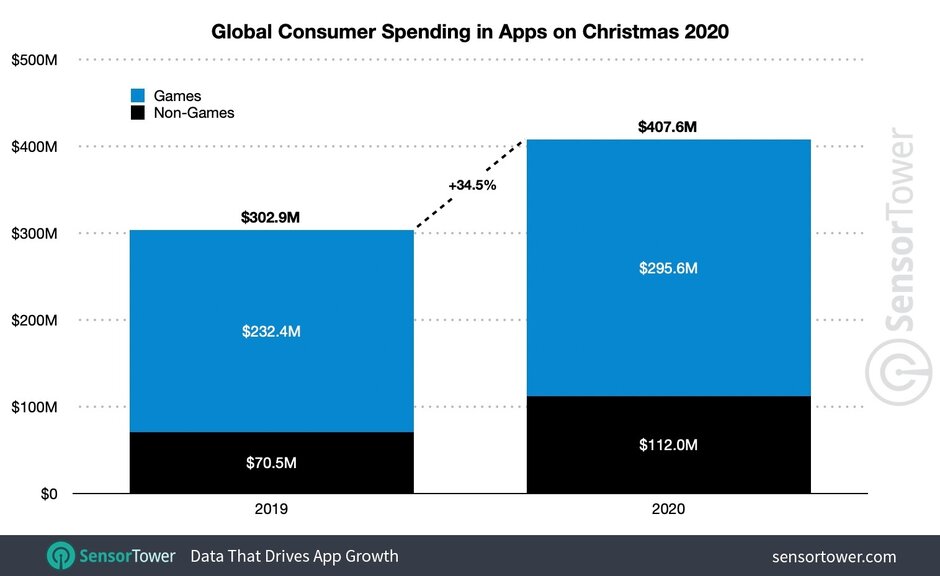 Just as mobile gaming led the way in global app purchases on Christmas Day (with Tencent's Honor of Kings taking first place with a revenue of $ 10.7 million), games were also the most popular apps in the states on December 25 led by Roblox.
The most popular app for consumers around the world for Christmas was the TikTok short video app, where the popular app, owned by China ByteDance, earned $ 4.7 million on Christmas.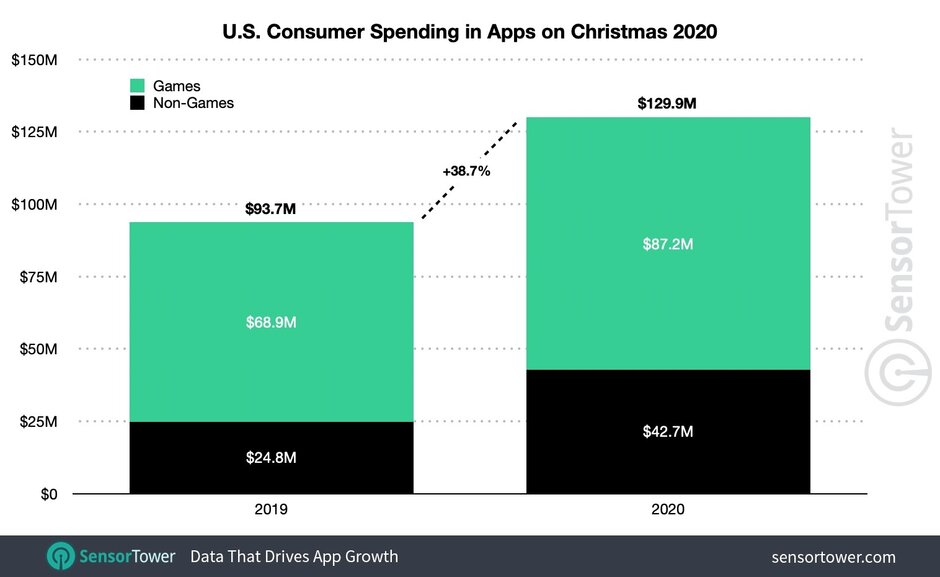 This year was a record for apps and games with more than $ 100 billion spent in app stores around the world for the first time ever, and although Android devices own nearly 85% of the global phone market, the App Store has traditionally raised revenue. More from Google Play Store.